IEric Carlson began pressing pipe 20 years ago when the practice was largely unknown in this country. Working for others gave him the opportunity to experience the technology's speed and reliability.

When he set out on his own five years ago, the master plumber knew pressing would give him the ability to compete against larger companies.

"When you look at your biggest expense, it's always labor," he said. "So, if you can use something that lets you do something faster, you use it."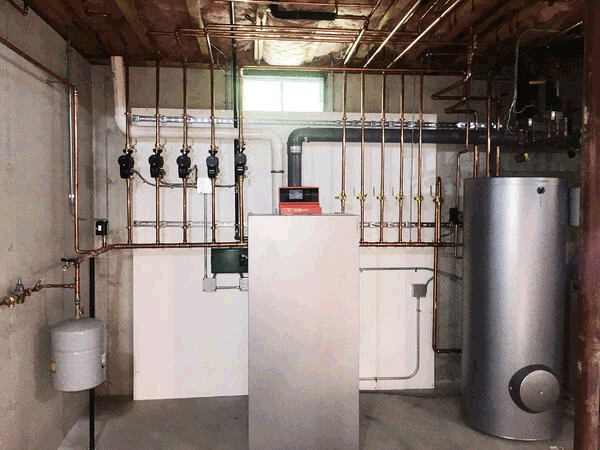 He bought a used pressing tool and got busy, focusing on residential work in his hometown of Hanover, Mass. Using Viega's ProPress and MegaPress let him win work because even as a one-man operation he could do the job faster than competitors still using more traditional methods of joining pipe.

Tests show MegaPress is up to 90 percent faster than welding and 65 percent faster than threading. Pressing also lets a single person do work that used to require two people.
Story continues below ↓
---
advertisement | your ad here
---
"Either you keep up with technology or you get passed by," Carlson said, adding that he also appreciates pressing's reliability and the fact that there is no flame.

"It's safer and homeowners like that," he said.

There's another reason Carlson likes pressing – it's neater.

This picture of a residential boiler system demonstrates how important a clean, well-designed installation is to Carlson.

boiler

"If you want it done right and you want someone who'll agonize over it, I'm your guy," he said.

Carlson said his goal is to make every boiler installation attractive enough that the homeowner will drag houseguests down to the basement to look at it the way they might show off a bathroom or kitchen remodel.

For this particular retrofit, Carlson laid all the parts and pipes out on the basement floor to make sure they would come together the right way. "I care that it looks good and looks clean," he said.

That's another reason for using Viega fittings. "You don't have any solder drips and the fittings don't turn green," he said.

Have you done an installation that looks as good as this one? Post it on your social media and tag @viegallc.
###