Plumbing News
Kohler Company and NIBCO INC Recognized for Loyal Commitment to Industry Education.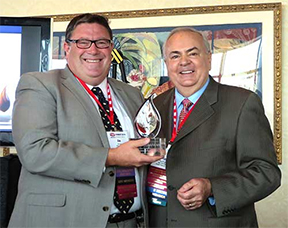 At a time when workforce development in the plumbing-heating-cooling industry is more crucial than ever, the PHCC Educational Foundation recognized the continued commitment of two corporate supporters – Kohler Company and NIBCO INC. – with its Chairman's Awards. Presented in New Orleans at PHCC's CONNECT 2014, Educational Foundation Chairman Roger Peugeot commended these manufacturers for their continued contributions toward "allowing the Foundation to make a difference to our industry each and every day."

Kohler Company has been supporting the PHCC Educational Foundation since its pledge to the Foundation's Endowment Fund in 1989. Through the years, the company also has been instrumental in bringing business management training to contractors and their employees by supporting the Foundation's webinar and seminar series. "That adds up to more than 550 education programs reaching almost 24,000 industry professionals," says Peugeot. Furthermore, Kohler is passionate about supporting the next generation of skilled workers, sponsoring and donating materials to both the SkillsUSA plumbing contest and PHCC Educational Foundation's own Plumbing Apprentice Contest, held each year at PHCC's CONNECT event.
Story continues below ↓
---
advertisement | your ad here
---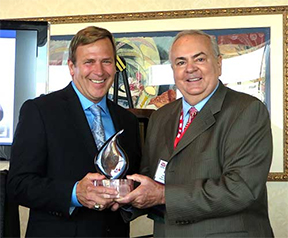 Likewise, NIBCO INC., a leading provider of valves, fittings, and piping products, was a key visionary behind the formation of the Foundation more than 25 years ago, providing crucial funding to get the Foundation started and holding one of the original seats on the Board of Governors. Not only has the manufacturer been a long-time supporter of PHCC's Plumbing Apprentice Contest, but it also was the first to step up as a sponsor for the Foundation's HVAC Apprentice Contest, which debuted at CONNECT last year. Additionally, NIBCO provides matching contributions to the Foundation's annual Invest in Your Future Campaign.

At the CONNECT event, Peugeot praised NIBCO Chief Executive Officer Rex Martin as "a leader in our Foundation since day one." As the manufacturer representative on the Foundation's Board of Directors, Martin is consistently in front of industry issues, serving, for example, as the driving force behind the Foundation's formation of the Get the Lead Out Plumbing Consortium, which was instrumental in preparing the industry for the new lead-free laws that went into effect last January.

"We're stronger because of the support of Kohler, NIBCO, and all our industry partners," Peugeot says. "With that, I'm proud to present this Chairman's Award to two manufacturers that have been with us from the beginning and continue to be strong supporters of the Foundation's mission."


About PHCC Educational Foundation
The PHCC Educational Foundation, a partnership of contractors, manufacturers, and wholesalers, was founded in 1987 to serve the plumbing-heating-cooling industry by preparing contractors and their employees to meet the challenges of a constantly changing marketplace. For more information, contact a member of the Foundation staff at (800)533-7694 or visit https://www.phccfoundation.org
# # #