Plumbing News
TOTO Introduces MyGreenPayback.
Company's New App Offers Consumers and Professionals the Ability to Calculate their Green Product Purchases' "Return on Investment" and "Return on Environment".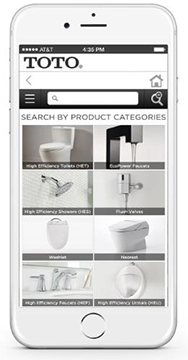 TOTO, the largest plumbing manufacturer in the world with $5.1 billion dollars in annual sales, announced today that it has further enhanced its position as a leader in sustainable product design and marketing providing by consumers and professionals with a new web-based sustainable purchase analysis appMyGreenPayback. TOTO's new app enables users to calculate in real time their financial return on investment and the planet's return on environment for the high-efficiency TOTO products they purchase for their homes and businesses.

"We wanted to make the sustainable purchasing process easier by demonstrating our high-efficiency products' water and energy savings across their life cycle in a format that is easy to understand," said Bill Strang, President of Operations for the Americas. "MyGreenPayback enables us to do that as well as demonstrate our products' benefits to the planet and human health."

TOTO's MyGreenPayback may be accessed from the web or a favicon installed on a computer, tablet, or smart phone. Users may compare up to three products, create their own products collections, and add products to a project for a payback calculation.

Rather than spending hours pouring over reams of technical data, consumers and professionals can now spend just a few minutes to understand and evaluate the benefits of their high-efficiency TOTO products.
Story continues below ↓
---
advertisement | your ad here
---
"The MyGreenPayback team has enjoyed working with TOTO, and we are excited to help them simplify sustainable product decision making," said Paul Shariari, founder and CEO of MyGreenPayback. "Having an ROI calculator in the hands of their designers, engineers, contractors, plumbers, and customers will help everyone see the massive impacts we can have on our built environment."

To calculate their payback, users simply input their product data (quantity, usage profile, and purchase price) or their project profile (product data, utility rates, inflation, and time horizon). Once the data is input, users can quickly and easily calculate their ROI and their payback breakeven point.

MyGreenPayback provides users with the financial impact and potential savings breakdowns for energy cost savings, water cost savings, and total cost of ownership (life cycle).

Users can easily do another calculation by simply adjusting their product or project parameters.

About TOTO:
TOTO USA is headquarters for the Americas Division of the TOTO Global Group, which was established in 1917 with the founding of TOTO, Ltd., in Kitakyushu, Japan. TOTO is the largest plumbing manufacturer in the world with $5.1 billion dollars in annual sales. To date, TOTO has produced more than 60 million plumbing fixtures. Today, this international company maintains 23,500 employees in 69 offices around the world and owns manufacturing facilities in Japan, Mexico, the USA, China and Europe with an affiliated network of more than 80 production facilities worldwide. With over 1,500 engineers on staff and three centers devoted solely to research and development, TOTO is the undisputed global leader in product innovation, precision engineering, high design, and sustainability in products that are designed to meet people's real world needs. Exemplified in the company's philosophy People-First Innovation TOTO offers consumers elegant luxury products that save money and water without sacrificing an ounce of performance and the peace of mind that comes from knowing they purchased a brand that sets the standard for world-class performance, enduring quality, and reliability. Winner of numerous domestic and international awards and recognitions, TOTO is the only plumbing manufacturer honored as Water Efficiency Leader by the Environmental Protection Agency. TOTO continues to raise industry standards and consumer expectations as to what is possible in the bath space, as it connects people with water in ways that enrich the flow of their daily lives.
# # #