Plumbing News
Twin City Hose, Inc. Announces UL® Classification for Water Quality.
Twin City Hose Completes UL® Classification for Lead-Free* Verification In Compliance With the 2014 Federal Mandate.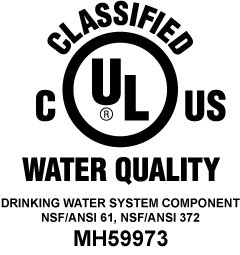 Twin City Hose, Inc. is pleased to announce the completion of UL® Classification for water quality of their V and U shaped thermal/seismic metal expansion joints and straight flexible metal connectors. These UL® Classified assemblies are fabricated domestically using only lead-free* bronze, copper, carbon steel and stainless steel materials.

Underwriters Laboratories®, known as UL®, is a global, independent science safety company that has a testing and validation program which is designed specifically for products that convey or dispense water for human consumption. Twin City Hose's UL® Classification demonstrates compliance with the Federal Reduction of Lead in Drinking Water Act, which revised the definition for "lead free" in the Safe Drinking Water Act.
This Federally mandated act came into effect January 4th, 2014, and is in alliance with NSF®/ANSI® 61 and 372 standards. This legislation regulates the maximum allowable contaminant level of lead within potable water piping systems. These products include plumbing hose and fitting assemblies that come into contact with potable water and appliances that provide water for drinking or utilize water in generating beverage or food products.
TO VIEW TWIN CITY HOSE'S LIST OF LEAD FREE PRODUCTS GO TO: WWW.TWINCITYHOSE.COM/UL-CLASSIFIED.HTML
Story continues below ↓
---
advertisement | your ad here
---

"Twin City Hose is committed to fabricating safe and reliable products that meet the terms of government regulations. We understand the safety concerns and need for classified lead-free hose assemblies and will work closely with the UL® organization to ensure that we are in complete compliance in our commitment to manufacture lead-free* products." says Michael Lowe, President of Twin City Hose.

Headquartered in Rogers, MN, Twin City Hose, Inc. is one of the leading fabricators and suppliers of corrugated and braided flexible metal hose assemblies and thermal/seismic expansion joints (metal, rubber and PTFE). Twin City Hose offers a wide variety of hose, braid and end fittings, all of which are available in different types of materials and configurations. The expert welders at Twin City Hose can also fabricate custom and OEM products. For more information on Twin City Hose, visit www.twincityhose.com .
###

* LEAD FREE REFERS TO <0.25% WEIGHTED AVERAGE LEAD CONTENT IN RELATION TO WETTED SURFACE OF PIPE, FITTINGS AND FIXTURES IN SYSTEMSDELIVERING WATER FOR HUMAN CONSUMPTION.