Plumbing News
Viega Solutions Included in Revit® and AutoCAD® MEP Service Software.
AutoDesk building system design programs are the latest to include Viega.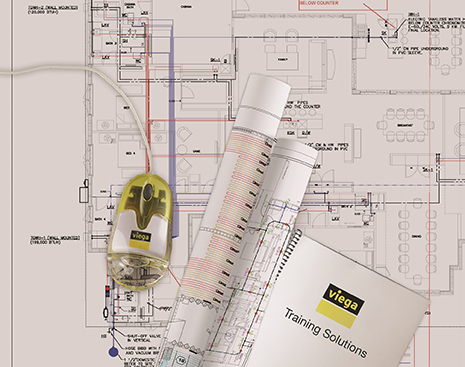 Viega solutions are now included in Revit, a design software which provides building information modeling tools for architects, MEP engineers, structural engineers and designers within the construction industry. Viega solutions are also included on AutoCAD® MEP software for drafting, designing and documenting building systems.

Revit and AutoCAD MEP are the most recent building design programs to use Viega solutions. AutoCAD MEP is used by mechanical contractors to design their systems prior to installation and generate material lists. Among many other purposes, Revit can be used to complete 3-D building designs for piping, ducts and other materials. Other uses include creating building performance renderings for sales presentations.
Story continues below ↓
---
advertisement | your ad here
---
"These programs help determine any potential issues that may arise during installation on a job before they can occur," said Jason McKinnon, director of technical services, Viega. "This reduces the need for change orders as well as trade interference. Much like Viega's solutions, these programs are meant to save time and money for jobs in the building design and construction industries."

Programs like Revit and AutoCAD MEP are a part of Viega's CAD and BIM download library and provide free drawings and models for a number of applications. Viega's own Technical Services Department offers training, technical support and design services for nearly any type of plumbing, radiant and fire protection project. Viega also offers solutions such as LoopCAD, a radiant design and drawing software preloaded with Viega components and installation methods, as well as apps which provide supplemental readings and estimators.

For more information on Viega Design Services, visit viega.us and select "services."

About Viega:
The Viega Group, with a tradition of innovation for more than 115 years, has approximately 3,800 employees worldwide and is among the leading manufacturers of pipe fitting installation technology. In metal press systems for industrial, commercial and residential projects, the company is the global market leader. In the U.S., Viega LLC employs nearly 500 people and offers more than 3,000 products. These include Viega ProPress® for copper and stainless, Viega MegaPress® for black iron pipe and Viega PEX Press systems in Zero Lead™ bronze and high-performance polymer. Viega also specializes in the design, production and installation of ProRadiant™ heating and cooling systems. For more information, visit www.viega.us.