Plumbing News

Viega Expands PEX Product Offerings
New Viega PEX systems are ideal for commercial and municipal use.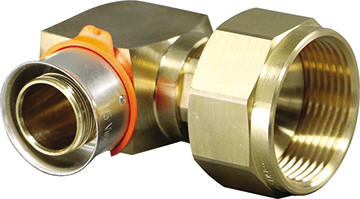 Viega introduces Viega PEX Press test plugs, PEX Press 45-degree elbows, PEX Press 90-degree flare elbows, PEX Press reducing tees and PEX pipe supports, expanding its PEX offerings for a variety of applications including commercial and municipal.

The new PEX Press test plugs are available in sizes 1 1/4ʺ and 1 1/2ʺ. Other sizes ranging from 3/8ʺ to 1ʺ inch are also available and a 2ʺ size is coming soon. The plugs are designed for use with Viega PEX Press system which uses plastic fittings made from Radel® R, a high-performance polymer. The test plugs are designed with Viega's patented Smart Connect® feature to identify an unpressed connection.

Another addition is the 45-degree polymer PEX press elbows also made out of Radel R. These fittings allow for more versatility in installations of larger diameter tubing and are offered in 1 ½ʺ x 1 ½ʺ and 2ʺ x 2ʺ sizes.
Story continues below ↓
---
advertisement | your ad here
---
New PEX Press bronze, 90-degree flare elbows are a flare by press configuration that can be used as a connection for water service. Constructed from Zero Lead™ bronze, the 90-degree elbows are available in 3/4ʺ and 1ʺ sizes.

The new PEX Press reducing tees are constructed from Zero Lead™ bronze and are available in 1 1/2ʺ x 1 1/2ʺ x ¾ʺ, 1 ½ʺ x 1-1/4" x 1ʺ, and 1 ½ʺ x 1-1/4ʺ x 1 ¼ʺ sizes.

PEX pipe supports are also now available for use with ViegaPEX™ tubing. The supports are available in 10ʹ lengths in 1ʺ, 1 1/4ʺ, 1 1/2ʺ and 2ʺ diameters.

"As the use of plastics continues to grow in the industry, we're proud to offer even more commercial- and municipal-suited PEX products," said Jeff Courtney, Viega's director of product management, plastics. "Viega PEX products not only offer excellent performance, they are backed by an excellent warranty."

In February, Viega announced its 25-year PEX water systems limited warranty. The previous 10-year, comprehensive warranty on PEX products remains unchanged, but the warranty now features an additional 15 years of product coverage.

About Viega:
The Viega Group, with a tradition of innovation for more than 115 years, has approximately 3,800 employees worldwide and is among the leading manufacturers of pipe fitting installation technology. In metal press systems for industrial, commercial and residential projects, the company is the global market leader. In the U.S., Viega LLC employs nearly 500 people and offers more than 3,000 products. These include Viega ProPress® for copper and stainless, Viega MegaPress® for black iron pipe and Viega PEX Press systems in Zero Lead™ bronze and high-performance polymer. Viega also specializes in the design, production and installation of ProRadiant™ heating and cooling systems. For more information, visit www.viega.us.
# # #

Note: Zero Lead refers to products meeting the requirements of NSF 61-G through testing under NSF/ANSI Standard 372.


# # #