Plumbing News
Kohler Co. Reinvents Its Approach To Global Retail With Launch Of KOHLER Experience Centers.

Created to serve the fast-growing segment of design professionals working on projects around the world and to offer consumers on-site product immersion, the new retail concept will make it easier than ever to experience and buy KOHLER products.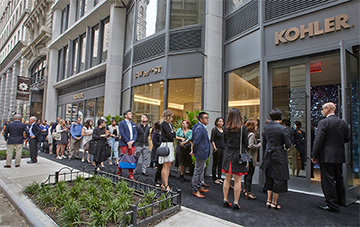 In keeping with its commitment to provide an unparalleled level of service to design professionals and consumers alike, Kohler Co., a global leader in the design and manufacture of kitchen and bath products, announces it will launch a new retail concept—the KOHLER Experience Center (KEC)—offering a global immersion in the full offering of KOHLER products.

The first KEC is scheduled to open at 6 West 22nd Street in New York City on May 24, 2017. The Center will house fully-functioning displays of Kohler's global product line available across the world—a first for both the industry and for the KOHLER brand. This will enable trade professionals to test and source KOHLER products like never before. Fully-functioning products, including showers, tubs, sinks and toilets will enable all customers to experience the true differences in performance and design.


"Our Kohler Experience Centers build upon the success of our Signature Stores and will uniquely provide a deeper immersion into our product offerings for trade professionals sourcing and selecting the best products for any project, wherever it may be in the world," said David Kohler, president and chief executive officer of Kohler Co.

At the New York City flagship located in Manhattan's iconic Flatiron District, each touch point of the 10,000 square-foot space – from more than 20 kitchen and bath vignettes and the Artist Editions Gallery, to the art displayed in the storefront window – is designed to connect and inspire. The Experience Center within the KEC is the only private bathing space in New York City where guests can exclusively experience Kohler's most impressive offering of products like Real Rain, the DTV+ digital showering system, VibrAcoustic hydrotherapy, and a range of showerheads and intelligent toilets among the very latest in KOHLER technology.
Story continues below ↓
---
advertisement | your ad here
---
To best serve design professionals, KEC will also offer a new KOHLER global specification service, which will for the first time allow professional architects and designers working on international projects to have instant, hands-on access to all products across the entire KOHLER global portfolio. A Kohler team of experts will be stationed on-site to help source and resolve complex plumbing projects both in the United States and around the world. By-appointment videoconferencing will also be available, connecting customers with the full network of KOHLER product experts across its international markets.

"We recognized a tremendous need across the industry for a deeper knowledge and insight into how our products work," says Larry Yuen, Kohler Co. president of the global Kitchen & Bath Group. "From a plumbing perspective, the products that work in a bathroom in Milan are acutely different from those that need to work in a hotel in Dubai, for instance. Our goal with the KEC is to provide design professionals with both the ability to source and resolve all plumbing needs on a global scale from any KEC location."

KALLISTA and Robern, two brands from the Kohler Co. decorative products sector, will also call KEC home. KALLISTA plumbing products will have a dedicated space, offering an elevated, shop-within-shop retail experience. The latest Robern vanities, cabinets and lighted mirrors will be incorporated throughout the KEC bathroom vignettes to inspire sleek, smart storage solutions.

Each KEC will also serve as an art exhibit space for select pieces from the permanent collection of Kohler Co. and its renowned Arts/Industry program through the John Michael Kohler Arts Center, which fosters the intersection of art and the industrial process. Since its founding in 1974, the program has hosted more than 500 resident artists from around the world at the manufacturer's global headquarters in Kohler, Wis., where in its pottery and foundry, they are immersed in a new creative medium.

Kohler Co. plans to launch a total of nine KECs over the next year to meet the global demand. In addition to the New York opening, London will immediately follow, along with Los Angeles, Singapore, Shanghai, Hong Kong, Bangkok, New Delhi and Taipei opening later in the year.

KEC NYC will be open seven days a week, welcoming walk-ins from both consumers and trade professionals. It will be run and operated in partnership with Best Plumbing Supply, a leading KOHLER plumbing distributor in the Northeast. "Our partnership with Kohler Co. spans nearly 50 years," says Kymberly Weiner, New York City sales and development manager of Best Plumbing Supply. "It's a tremendous honor to elevate our collaboration to one that will best inspire and serve consumers and design professionals through a shopping experience rooted in Kohler's spirit of gracious living."

About Best Plumbing Supply
Best Plumbing Supply has been focused on providing unrivaled customer service to retail and trade clients alike for over 50 years. Best Plumbing Tile & Stone's four frequently updated showrooms, located in Scarsdale, Somers and Yorktown, NY and Stamford, CT, offer the area's most comprehensive selection of high-quality plumbing fixtures and tile. Our two Best Plumbing Supply Stops, located in Yorktown and Elmsford, NY, are stocked with over 3,800 plumbing SKUs for the convenience of local trade customers.

Located in the Flatiron District of Manhattan, The Kohler Experience Center by Best Plumbing Supply is dedicated to displaying all the latest and greatest products by Kohler, Kallista and Robern, as well as a beautifully curated tile collection. All of these locations are supported by our 137,000 square foot distribution center in Somers, NY.

About Kohler Co.
Founded in 1873 and headquartered in Kohler, Wisconsin, Kohler Co. is one of America's oldest and largest privately held companies comprised of more than 30,000 associates. With more than 50 manufacturing locations worldwide, Kohler is a global leader in the manufacture of kitchen and bath products; engines and power systems; premier furniture, cabinetry and tile; and owner/operator of two of the world's finest five-star hospitality and golf resort destinations in Kohler, and St Andrews, Scotland.
# # #