Plumbing News
Mansfield Plumbing Displays Ongoing Commitment to U.S.-Based Manufacturing with Renewed Union Contract.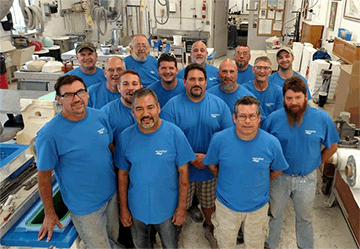 Made in the USA and Mansfield go hand-in-hand, and it's the hardworking employees who keep that company value going strong. Looking to ensure a better quality of life for local workers and a stronger economy in the community, the American manufacturer of sanitaryware and bathware has signed a multiyear union contract for its Perrysville, Ohio, operations.

For the next four years, facility workers and their families will benefit from the following new contract provisions:

- Annual increase in each year of the contract for all members
- Position tenure increase in addition to their annual wage increase
- Increased benefits with the addition of vision insurance coverage
- Removal of Point program, where an employee can earn the removal of a demerit from their record after 120 days of perfect attendance"

Story continues below ↓
---
advertisement | your ad here
---
"Mansfield Plumbing Products has produced sanitaryware products in the United States for almost 90 years while many other manufacturers have moved operations overseas," said Jim Morando, president of Mansfield. "Our relationship with our employees, and the ensuing trust that has been built between us, makes this contract a win-win for everyone involved."

Mansfield also makes it a priority to engage employees at work and to include programs that add value to their lives. For example, Mansfield sponsors an annual donation program designed to support community charities chosen by employees. Additionally, emergency funds are available to employees who have had catastrophic or significant losses, while the employee assistance program offers free and confidential counseling care.

Mansfield is invested in American manufacturing and in being a great place to work, continuously putting the needs of its employees at the forefront to make that a reality. For more information, visit www.mansfieldplumbing.com.

About Mansfield Plumbing Products:
Mansfield Plumbing Products manufactures millions of pieces of sanitaryware and bathware each year at its facilities in Perrysville and Big Prairie, Ohio, and Henderson, Texas. Founded in 1929, Mansfield Plumbing, which is owned by Corona, is a leading producer of top-quality, high-design, performance plumbing fixtures and fittings for use in residential, commercial and institutional markets. For more information, visit www.mansfieldplumbing.com or call 877-850-3060.

# # #