Plumbing News
Uponor launches new website.
New resource-rich website consolidates multiple sites into one, allowing users to quickly find information about Uponor products and applications in a single, mobile-friendly location.


Uponor North America has launched a new website, Uponor-USA.com, built with an intelligent and intuitive design that enables U.S. and Canadian visitors to quickly find whatever they need, whenever they need it — all in a single location that will readily accommodate any screen type: desktop, laptop, pad or mobile phone.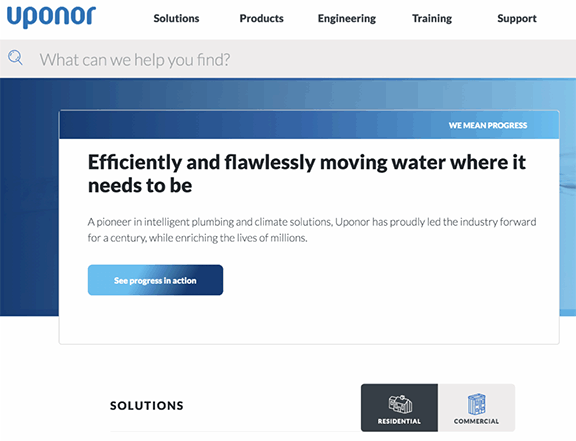 Consolidating the company's three previous websites into one, the new site incorporates the following enhancements to help visitors easily access detailed content more efficiently and effectively, even while on the job site:

• Resource center offers access to manuals, specifications, design software, catalog files in a PDF format, bulletins, computer-aided design (CAD) details, forms, checklists, and other important literature for specifiers, designers, installers and service technicians. Users can leverage the filter-and-sort functionality to pinpoint search results and speedily access exactly what they need.

• Online catalog delivers detailed product information and descriptions, as well as advanced search, filter and sorting capabilities.

• Enhanced search by keyword or part number, again using the filter and sort functions to narrow their results.

In addition, the new Uponor website features five key navigation channels: Solutions, Products, Engineering, Training, and Support. Besides accessing product and application information, including case studies, contractors can use these channels to find local distributors, order literature, request a system design, access how-to videos, explore factory and online training opportunities, or learn the benefits of joining the Uponor Pro Squad.
Story continues below ↓
---
advertisement | your ad here
---
The Engineering section offers specifiers and system designers documents and tools for submittal preparation; specification, codes and standards data; access to BIM/CAD files, as well as an online calculator for accurately sizing plumbing, hydronic or radiant piping projects.

"Quick and easy access to accurate information is critical in today's increasingly virtual marketplace," explains Bill Gray, president of Uponor North America. "By enhancing our website and the ability to seamlessly access comprehensive data from a variety of digital devices, we hope to make the experience of working with Uponor a positive one for our customers, partners and the community at large."

The new Uponor website at www.uponor-usa.com/en can be fully accessed through all the major browsers, especially the latest versions of Google Chrome, Microsoft Edge, and Firefox. Questions about the site should be directed to NAsupport@uponor.com.

About Uponor
We mean progress.
Apple Valley, Minn.-based Uponor North America strives to be the partner plumbing and HVAC professionals rely on for smart water and energy solutions. The company is helping to advance the construction industry through innovation, education and advocacy focusing on the defining issues of our time: water, energy and labor. An award-winning manufacturer of PEX piping and provider of plumbing, fire safety, radiant heating/cooling, hydronic piping, and pre-insulated piping systems, Uponor offers solutions for new construction, retrofits and remodels in the residential, light commercial and commercial markets. Recognized for best-in-class manufacturing, sustainability, economic development and as a top workplace, the Uponor group of companies employs more than 4,000 worldwide. Uponor's global headquarters are located in Vantaa, Finland. uponorpro.com
# # #