Plumbing News
Watts Introduces New Smart and Connected W561 Thermostat.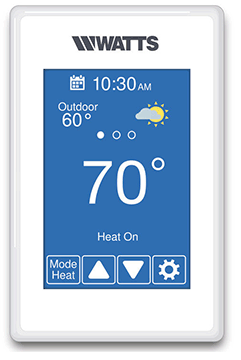 Watts has launched the Watts W561, a smart & connected WiFi thermostat that provides precise temperature control of a single-stage heating system.

When connected to the Internet, the W561 thermostat can be controlled remotely using the Watts® Home mobile app. It offers a 7-day, 4-event programmable schedule and an early start feature that automatically heats up a room by the scheduled time.
Story continues below ↓
---
advertisement | your ad here
---
An "away" mode can be quickly and easily accessed to provide energy savings when the space is unoccupied. In addition, the thermostat supports radiant floor heating with a floor sensor that can be installed to enhance comfort and protect floor coverings.

Features

WiFi enabled thermostat
Single stage heating thermostat
7 day programmable schedule
Watts Home app controlled

For more information, go to https://www.watts.com/w561