Plumbing News
Bosch Thermotechnology's Portugal Plant Reaches Production Milestone of 20 Million Water Heaters.



 Aveiro facility manufactures gas-fired water heaters for sale in 56 countries
 Facility employs 1,000 associates
 With five locations, Bosch is one of Portugal's largest industrial employers.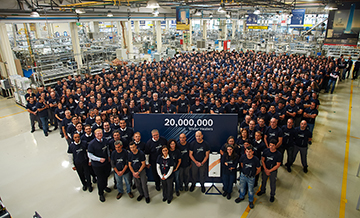 Bosch Termotecnologia S.A's Aveiro plant, 70 kilometers south of Porto in the northwest region of the country, passed the 20 million mark in production of gas-fired water heaters this past fall. Vulcano brand gas water heaters are the market leader for tankless water heater technology and are sold throughout Europe and exported to North America where they are sold under the Bosch Greentherm brand name. In the U.S. Greentherm water heaters are ENERGY STAR rated products.

Bosch has been manufacturing in Portugal since 1911 and at the Aveiro facility since 1977. At Aveiro it currently employs about 1,000 associates in R&D and manufacture of water heater products for both residential and commercial applications. The company celebrated the milestone production achievement on October 29th with Bosch Thermotechnology Portuguese and German representatives on hand to mark the occasion. The international Bosch Group operates five facilities in Portugal for automotive, industrial, construction and household and business use technologies and employs over 3,000 people, making it one of the largest industrial employers in the country.
Story continues below ↓
---
advertisement | your ad here
---
Greentherm tankless water heaters are wall-mounted gas condensing water heaters with an energy factor of 0.95 that produce virtually limitless domestic hot water on demand and come with innovative venting options to fit virtually any installation requirement.

About Bosch
About Bosch Thermotechnology
Bosch Thermotechnology is a leading source of high quality water heating and comfort heating systems. The Company offers Bosch tankless, point-of-use and heat pump electric water heaters, Bosch solar thermal systems, Buderus floor-standing and wall-hung boilers, Bosch and FHP geothermal systems as well as controls and accessories for every product line.

Bosch Thermotechnology is committed to reinventing energy efficiency by offering smart products that work together as integrated systems that enhance quality of life in an ultra-efficient and environmentally friendly manner. For more information, visit www.boschheatingandcooling.com


# # #