Plumbing News
Pump Products Extends Discounts to PHCC and ESA Member Contractors.
Pump Products is offering deep discounts and expert product support to plumbing, HVAC and electrical contractors with professional affiliation.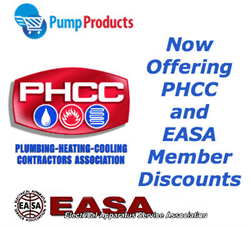 Pump Products is offering a new incentive to customers from the plumbing, HVAC and electrical contracting trades. Those with memberships in the Plumbing-Heating-Cooling Contractors Association (PHCC) and the Electrical Apparatus Service Association (EASA), are eligible to receive an additional discount off of Pump Products' guaranteed lowest prices on pump, electric motor and repair parts purchases.

"With our focus on pumping equipment, we occupy a niche market that is sustained by trade-affiliated contractors," says General Manger Ed Drejman. "In striving to be the contracting industry's one-stop-shop for pumps and electric motors by leading manufacturers like Bell & Gossett, Armstrong, Taco, Grundfos, Zoeller, WEG and others, offering a broad inventory is just the first step. To stand apart from the rest, we have to sell products at the kinds of discounts that cancel out the need to shop elsewhere."

Memberships in both EASA and PHCC include Pump Products in a nationwide network of plumbing, HVAC and electrical contractors who have a demonstrated interest in best practices and emerging technologies -- a ready market for the many energy efficient and industrial grade pump and motor products by innovative manufacturers like BJM, Wilo, Liberty and PHCC Pro Series that the on-line retailer promotes and sells. Effectively working with these kinds of products often requires precise sizing and a level of technical expertise that the average residential customer lacks and will therefore pass on in favor of simpler and less efficient models.
Story continues below ↓
---
advertisement | your ad here
---
"Many of our product experts have come out of the plumbing, HVAC and electrical trades with firsthand experience of the applications PHCC and EASA members deal with on a daily basis," says Ed Drejman. "At Pump Products they are manufacturer-trained to size and apply both general and industry-specific products ranging from Schneider Electric Square D VFD drives to Zoeller explosion-proof pumps. As a result, there aren't many vendors better equipped for dealing with contractors than we are."

In addition to the time and resource savings to be accrued from expert sizing and product selection in the form of fewer breakdowns and product returns, Pump Products is offering EASA and PHCC members a monetary incentive to shop online.

"It's a competitive market and by extending PHCC and EASA members discounts on top of our already guaranteed low prices, we are offering contractors savings that they can pass along to their customers. When you throw free shipping into the mix, we have a real contribution to make. Whether it's a residential sewage pump from Sta-Rite or a fully engineered Hydromatic system, it doesn't matter. The message we're sending to the contractor trades is we can help."

Company Information
Pump Products is an online pump retailer offering an extensive selection of pumps and repair parts by leading manufacturers including Armstrong, Bell & Gossett, Taco, Berkeley, Hydromatic and Little Giant to residential, commercial and industrial customers.
For more information, visit Pump Products at https://www.pumpproducts.com or call 1-800-429-0800.

# # #