Plumbing News
RectorSeal Acquires G-O-N® LLC, Originator of the Plumbing Industry's Glue-On-Nozzle Downspout.

The industry's only theft-proof, glue-on nickel-bronze downspout nozzle that can be installed after the wall is built.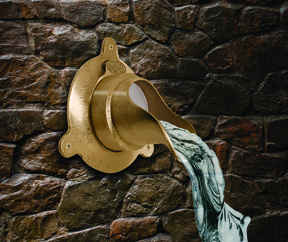 RectorSeal® Corp., Houston, a leading manufacturer of quality plumbing and HVAC/R products, acquired the total assets of G-O-N® LLC., Scottsdale, Ariz., recently.
The five-year-old G-O-N is the originator of the Glue-On-Nozzle (www.glueonnozzle.com), a patented, decorative nickel-bronze downspout for commercial building roof drains. The Glue-On-Nozzle is the plumbing and building industries' only decorative downspout with a theft-resistant glue-on design that's applied with solvent cement and installed after the wall or building is completed.
"We had the opportunity to buy a company with a 'best-in-class' product, so we took advantage of it," said Larry Kaiser, vice president, RectorSeal. "The Glue-On-Nozzle fits nicely into our expanding plumbing product line that's sold through wholesale distributors."

Invented by a former plumber, the Glue-On-Nozzle has seven models ranging from 2 to 12-inch diameters. The nozzle installs in minutes with a three-screw wall escutcheon plate that incorporates an inner PVC coupling for gluing the decorative metal nozzle to the building's PVC or ABS downspout. .

Story continues below ↓
---
advertisement | your ad here
---
The Glue-On-Nozzle saves job costs because it's installed after the building or wall is completed without masonry crew coordination.
The acquisition's transition was seamless as RectorSeal began marketing GON through its network of manufacturer's representatives on Dec. 21. All information on G-O-N is now available through RectorSeal at www.rectorseal.com or customer service at 800-231-3345.
###
About RectorSeal: The RectorSeal® Corporation is a leading manufacturer of chemical and specialty products designed for professional tradesmen. Steady growth over the years has been maintained through a commitment to providing high quality products and services. With a diversified business strategy, RectorSeal aggressively pursues new and unique technologies to serve the plumbing, heating, air conditioning, electrical and construction industries. The RectorSeal Corporation is devoted to providing innovative quality products supported by strong customer and technical service. For more information, visit www.rectorseal.com, email marketing@rectorseal.com or
call (800) 231-3345.



###