Plumbing News
Uniweld Announces the Release of Their New 2014 HVAC/R & Plumbing Equipment Catalog.
Uniweld's 2014 HVAC/R & Plumbing Catalog for Air Conditioning, Refrigeration, Plumbing, Heating, Automotive, and Maintenance applications is now available.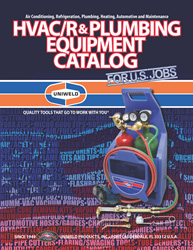 Uniweld Products, Inc. has completed and officially released an all new HVAC/R & Plumbing Equipment Catalog in 2014. The all new catalog is color coded and easy to navigate; plus with new products, more information than ever before, and over 100 pages, the new 2014 HVAC/R & Plumbing Equipment Catalog is Uniweld's best yet.

This catalog provides you with detailed information on a full range of Uniweld flame tools for the HVAC/R, Plumbing, Automotive and Industrial Maintenance professionals. When deciding on what flame tools are needed for your particular job application, it's a good idea to determine, if it will be used specifically for welding or cutting steel, soldering or brazing copper tubing or if it should be a multi-purpose outfit.
Story continues below ↓
---
advertisement | your ad here
---
Uniweld provides the basic industry definitions for the above applications to help users decide what flame tools will be required to get the job done efficiently.

Since 1949, Uniweld has been dedicated to producing quality products at competitive prices. Throughout the pages of Uniweld's 2014 HVAC/R & Plumbing Catalog, the reader will find Uniweld's popular and proven "Quality Tools That Go To Work With You"® as well as helpful information to assist trade professionals.

# # #